home
Plus3 connects personal wellness with corporate philanthropy.
We help your employees bring their best selves to work, every day.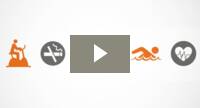 6 million
activities logged
$1,991,001
moved to charity
120 million
miles covered
4 million
hours spent
73 billion
steps taken
"Plus3 makes health and fitness meaningful. It increases motivation by adapting to the core values of each individual. I've been in this space for a long time and no other corporate wellness solution addresses this as well as Plus3."
Archana Dubey, MD, Teaching Professor, Stanford Medical School